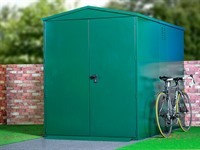 Asgard Secure Bike Storage


Police approved high security bike storage sheds
The Asgard Cycle Store is the manufactured in the UK from thick heavy gauge galvanised (weatherproof) steel, it's one of the safest and most comfortable ways to securely store your valuable bikes and cycling accessories.
High security metal storage that will provide the best protection for all our customers bikes & cycling equipment. A tough, all metal construction has given Asgard high security sheds a level 1 rating from the Loss Prevention Certification Board. An insurance approved high security shed from Asgard will provide our guests with reliable protection from both theft and the weather.
POLICE APPROVED. Read about Police Approved Design here>
LOCKSMITHS APPROVED. Locksmiths Association report here>
SEE AN ATTEMPTED Break into an Asgard shed here>
To help deter thieves, Asgard, heavy duty storage sheds are fitted with extra strong 5 point locking systems, reinforced doors, extra locking points, bracing bars, double folded sections and welded hinges. These UK made metal storage sheds will beat the thieves & the weather, thanks to their galvanised (weather proof) steel panel design and the unique vented roof design (helping to keep condensation to a minimum) - keeping your valuable equipment not just safe but also dry.
Safe storage of all our customers bikes no matter how valuable from standard bikes to protecting your top end Carbon road bikes from bike theft - Asgard offer a range of high security metal sheds designed and manufactured here in the UK to safely store these valuable items from theft and the British weather too. With our Asgard, heavy duty approved metal sheds we work to ensure your most valuable equipment is